©Bloomberg
Two former top executives at Porsche, the sports car maker now owned by Volkswagen, will go on trial on Thursday for alleged market manipulation in one of the most keenly awaited cases in German corporate history.
Wendelin Wiedeking and Holger Härter, who were respectively Porsche's former chief executive and chief financial officer, face charges relating to the company's failed attempt to take over VW in 2008.
Prosecutors claim the pair repeatedly denied a plan to take control of the much larger VW, thus misleading investors. Both men deny the charge of "information-based market manipulation". If found guilty, however, they may be fined or sentenced to up to five years in prison.
Their trial in Stuttgart comes as VW faces massive penalties, repair costs and lawsuits over a diesel engine emission scandal, which has caused its stock to plummet almost 40 per cent over the past month.
But while the Porsche case refers to the alleged manipulation of financial markets, not emission test results, its impact on VW's share price at the time was no less dramatic.
Back in 2008, the David versus Goliath battle of Porsche versus VW had transfixed the automotive world. It also caused stock market turmoil, though — and enraged some investors who lost billions on bets that VW shares would fall.
Porsche's audacious takeover plan had involved the secret use of options contracts to build a stake in VW. At the time, many hedge funds had been short selling VW shares — borrowing shares to sell, expecting to be able to buy them back more cheaply.
When Porsche announced in October 2008 that it intended to take control of VW, those hedge funds betting that VW's shares would fall were forced to repurchase VW shares to cover their short positions, almost at any price — a so-called "short squeeze",
At one stage, VW's ordinary shares soared from about €200 to more than €1,000, briefly making VW the world's most valuable company by market capitalisation.
In 2009, the Porsche plan eventually came unstuck when it struggled to refinance a €10bn loan and VW was forced to rescue the sports car maker. Mr Wiedeking and Mr Härter resigned.
Thomas Möllers, a commercial law professor at the University of Augsburg said: "These events were an embarrassment for Germany's capital markets. It is a tragedy that it has taken seven years for a trial to begin."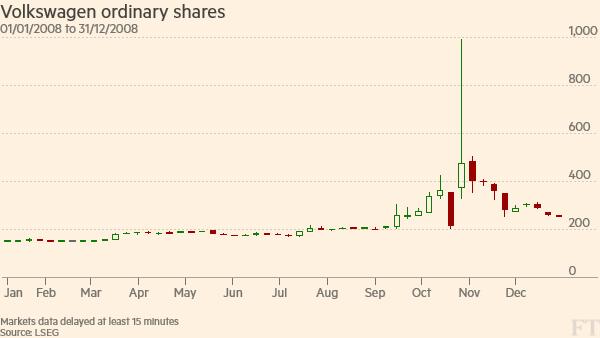 Now that the trial is finally taking place, it will be watched closely by investors and hedge funds — including Elliott International and Perry Capital — which are collectively suing the Porsche SE holding company for a total of more than €5bn in separate civil proceedings.
Before the ill-fated VW takeover plan, the outspoken, cigar-smoking Mr Wiedeking had been best known for rescuing Porsche from near-insolvency, after US sales slumped in the 1990s.
By expanding Porsche's model range and hiring Japanese production consultants he turned the company into the world's most profitable carmaker.
In turn, a profit participation agreement made him Germany's highest paid executive, with an annual income that reached €80m.
But Porsche was still too small to fund rising development costs on its own. So, in 2005, it began building a stake in VW. Porsche's advisers codenamed Porsche "Paris" and VW "Venice".
Related hedging transactions in VW shares, masterminded by Mr Härter, helped Porsche to book profits far in excess of what it made from selling cars — leading some critics to brand it a "hedge fund".
Then, in March 2008, Porsche's board gave the go ahead to increase its VW stake to more than 50 per cent — but Porsche denied wanting to raise the stake to more than 75 per cent, which would give it access to VW's cash flows.
However, in October 2008, Porsche announced that it did intend to increase the stake to 75 per cent. It said it already held 42.6 per cent of VW's shares and a further 31.5 per cent in so-called cash-settled options, representing a 74.1 per cent claim over VW.
This, it said, would pave the way for Porsche to take control of VW the following year.
These

events were an embarrassment for Germany's capital markets. It is a tragedy that it has taken seven years for a trial to

begin
– Thomas Möllers, commercial law professor at the University of Augsburg
Prosecutors are set to argue that Porsche had actually decided by February 2008 to take over VW but subsequently issued a series of press releases denying that goal, thereby misleading investors.
In a second charge brought against the two executives this summer, prosecutors allege a press release issued by Porsche in October 2008 was "misleading".
One month before that, the collapse of Lehman Brothers had led to falls in VW's share price and threatened to oblige Porsche to make large collateral payments to hedging partners that it could not afford, prosecutors claim.
This would have triggered an unravelling of Porsche's options structure, freeing up more VW shares — and thus avoiding the short-squeeze on investors.
Instead, though, the prosecutors allege that the Porsche press release created a false impression that there would be a "long-term narrow market" in VW shares, which pushed the price back up.
Both men deny the charges and are expected to tell the court that they provided accurate information that at all times reflected the supervisory and management boards' decisions. They will argue there was no secret takeover plan and the October press release was correct and was not intended to cause a short squeeze.
If Mr Wiedeking and Mr Härter are found guilty, the Porsche holding company could be forced to surrender any profits related to the alleged market manipulation, which prosecutors have not yet quantified. Porsche says the allegations are "without merit".
Copyright The Financial Times Limited 2015. You may share using our article tools.
Please don't cut articles from FT.com and redistribute by email or post to the web.